The giveaway is now closed. Congratulations Angelika- you're the winner! I've emailed you.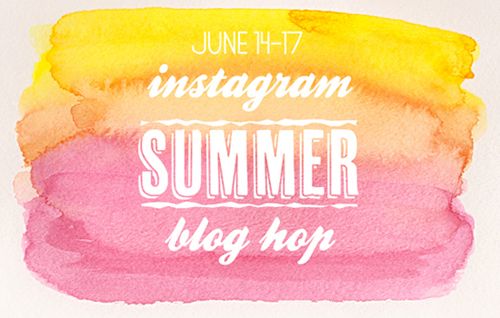 The slippers on my feet, and the jumpers at night are telling me that it is in fact Winter, not Summer. But that doesn't mean I can't virtually hang out with all those Northern Hemisphere instagram peeps and PRETEND it summer, does it?! I'm a winter lover for sure, but breastfeeding a baby in the night is not so fun in Winter! So I am remembering back to those warm Summer nights at the beginning of the year!
So if you've come here from the Instagram Summer Blog Hop, then WELCOME to the Southern Hemisphere.
To help you dream up Summer I've got a very awesome giveaway happening! Someone's going to get their hands on these super cute handmade watermellon embellishments, because watermellon is my FAVOURITE part of summer!
If you want a chance to win these pretty little things, then share with me your best summer memory! My husband, Luke, is not a Summer fan, so he will judge the entries based on who's story makes him like Summer the most!
Once you've submitted your entry, don't forget to head on over the the rest of the bloghop participants and see what other awesome giveaways are happening!
BLOG HOP LIST:
Aida Haron | aidaville : http://aidaharon.livejournal.com
Amelia Khalik | ameliakhalik : http://ameliakhalik.blogspot.com
Cindy Lee | cindylee : http://mylilcraftycorner.blogspot.com
Clare Reilly | thelifeofclare : http://thelifeofclaree.blogspot.com
Evelyn Pratiwi Yusuf | geekgalz : http://evelynpy.wordpress.com
Gina Lideros | ginalideros: http://canoncreativegirl.blogspot.com
Jaime Warren | jaimewarren : http://jaimewarren.typepad.com
Janna Werner | jannawerner : http://jannawerner.de
Jessy Christopher | jcchris : http://teacherjessy.blogspot.com
Joan C | joancce : http://scrapsncards.blogspot.com
Jordan Blaser | missblaser : http://missblaser.com/?page_id=9
Julie Garcia-Matus | callelillycafe : http://callelillycafe.blogspot.com
Kim Watson | kjstarre : http://kj-starre.blogspot.com
Kimberly Neddo | kimberlyneddo : http://kimberlygarofolo.typepad.com
Laura Banasiak | laurabanasiak : http://simply-scraps.net
Liana Suwandi | lianasuwandi : http://maples-lianasuwandi.blogspot.com
Lindsey Hansen | lindzeyhanzen: http://lindsey-hansen.com
Marie Ramirez | bettiescrapbook : http://absosweetmarie.blogspot.com
Melissa Mann | melissamann1981 : http://iheartpenquins.blogspot.com
Merdrey Chew | medrey : http://dreamieland.wordpress.com
Michelle Kehoe | michellek : http://michellelovesallsorts.blogspot.com
Michelle Lanning | michellelanning : http://michellelanning.com
Nancy S | Kittynance : http://kittyscrapper-nancy.blogspot.com
Natalie Elphinstone | natalieelph : http://onescrappydoctor.blogspot.com
Natt Smith | tinynatt : http://tinynatt.blogspot.com
Nina Burgess | ladybugnina : http://adventuresinbugland.blogspot.com
Sharmandeswari Nidyanandan | shamu_rueben : http://craftyliciousme.blogspot.com
Susan K. Weckesser | susankweckesser : http://mysweetearth.blogspot.com
Suryanti Halim | isur : http://suryanti-halim.blogspot.com
Talia Carbis | taliacarbis : http://number-19.com       <—– YOU ARE HERE!!!
Wati Basri | watibasri : http://scrapcreation.blogspot.com